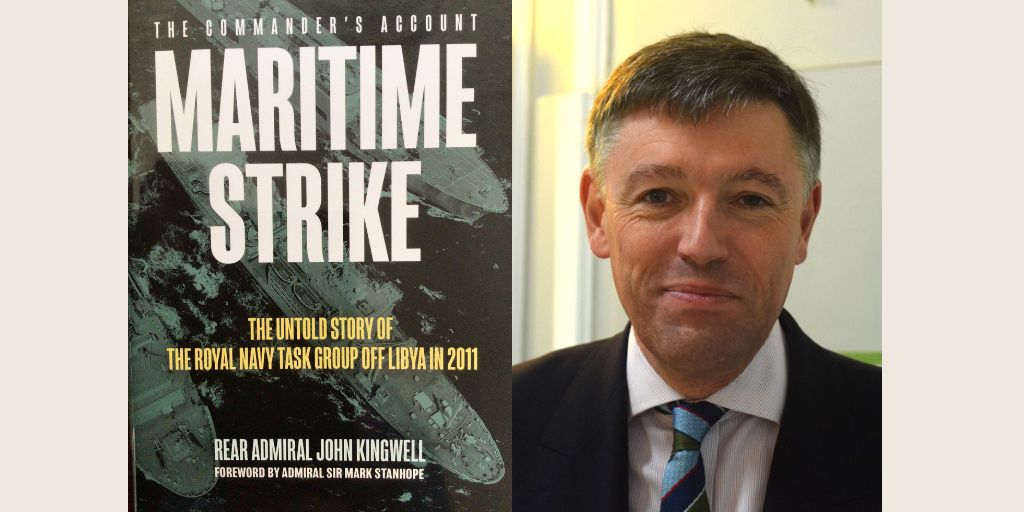 Maritime Strike: An Inspiring Story and Military Resource by Rear Admiral John Kingwell CBE
Rear Admiral and UDSS member John Kingwell's Maritime Strike captivatingly recounts his perspective as Commander UK Task Group during the Response Force Task Group's Mediterranean deployment supporting Operation ELLAMY in 2011.
A treat for military history fans and servicepeople alike, Kingwell's book also covers his inspiring journey from working class lad to Rear Admiral, providing valuable insights and inspiration for career naval officers.
A piece of military history
As a personal account by a Group Commander, military academics and professionals will find Maritime Strike particularly interesting.
Kingwell's in-depth account centres around the rapidly-established Response Force Task Group (RFTG) and their complex involvement in Operation ELLAMY - the UK's response to Libya's uprising against the Gaddafi regime.
He masterfully illustrates the complex challenges of maritime military command: authorising strikes while mitigating crew risk, working with NATO while cooperating with the RFTG's French counterparts and US support teams, and handling UK authorities.
Kingwell's challenge
"The MOD's main focus in early 2011 was success in Afghanistan and dealing with the outcome of a truly horrendous Defence Spending Review," Kingwell explained.
In this context, the Arab Spring and its fallout were shocking and unexpected, forcing military planners to handle the situation with rapidly-devised contingency plans.
Borne of urgency, the still-developing RFTG became a designated deployable headquarters, commanding any forces connected to Ellamy's planning. Then-Commodore Kingwell was named Commander UK Task Group (COMUKTG).
He faced extreme pressure to create and lead an elite new team despite the Royal Navy being oversubscribed by contingency planning on multiple fronts. "The RFTG was going to be tested much earlier than previously envisioned," Kingwell recalled.
Operation ELLAMY
A story of high-pressure military leadership, professionalism and bravery, Maritime Strike portrays peak modern defence and joinery.
It's a thrilling account of how Operation ELLAMY saw British Army and USAF Apache and Blackhawk helicopters operating from Royal Navy ships for the first time, supported by Fleet Air Arm aircraft, fixed wing jets and US Air Force search and rescue teams.
From June 2011, the RFTG's 22 helicopter strikes eliminated diverse targets including 54 vehicles, two rigid hull boats, two BM21 rocket launchers, four main battle tanks, a ZSU anti-aircraft vehicle, and three command & control nodes.
Maritime Strike vividly documents Kingwell's brilliant operational thinking, including his 'one and two up commanders' strategy, which drove a truly integrated command structure.
In describing how the new RFTG planned and prepared for multiple possible scenarios - including civilian evacuations from Libya, Yemen and Syria, maritime interdictions off the Libyan coast, and amphibious landings - Maritime Strike serves as an important historical strategic record to inspire and educate both laypeople and military personnel.
A military success story
In reading Maritime Strike, it becomes clear that John Kingwell is not only an accomplished sailor, but a man with a special gift in recalling the mood, moment and wider context surrounding an extraordinary military episode. Lord Peter Hennessy of Nympsfield expanded, "These pages put you back with him in the Mediterranean in 2011."
Maritime Strike conveys how the RFTG became an exemplary defensive entity through ceaseless training, the right equipment and expert leadership. However, a successful military operation largely depends on a complex web of personality-driven relationships.
Kingwell frankly illustrates how the dynamics of such relationships crucially affected the ELLAMY RFTG, who had to negotiate multifaceted command and control structures governing international responses to the Libyan civil war.
His contributions as commander meant that, at very short notice, the RFTG could deliver adaptive operational choices to suit constantly changing circumstances.
A military inspiration
Already a rich informational resource, Maritime Strike compellingly chronicles Kingwell's personal journey from dustman's son to Rear Admiral. It's this that makes the book essential reading for anyone considering a career as a Naval officer - or those who've lived a Naval life.
Each phase of Kingwell's career path underpinned the leadership he was expected to deliver as force commander on live operations. What defines him is his appointment as COMUKTG at a historical juncture that tested his training and experience to the limit.
Kingwell describes tough lessons learnt and the pitfalls of maritime and joint command at an operational level - but offers inspiring examples of how to deliver operational success, with Chapter 7, 'Lessons', proving especially valuable to junior officers in this regard.
John Kingwell progressed from facing potential discharge to becoming a highly respected commander with "the greatest operational experience of his generation," stated Admiral Sir Mark Stanhope GCB OBE, Chief of Naval Staff and First Sea Lord 2009–2013.
"Maritime Strike is an engaging, informative read for those aspiring to command at the same level or simply interested in the story of Operation Ellamy and the career journey of one of the Royal Navy's most talented officers."
_________________
Buy on Amazon: https://www.amazon.co.uk/Maritime-Strike-Untold-Story-Royal/dp/1636241131?source=ps-sl-shoppingads-lpcontext&ref_=fplfs&psc=1&smid=A3P5ROKL5A1OLE
Buy for Kindle:
https://www.amazon.co.uk/Maritime-Strike-Untold-Story-Royal-ebook/dp/B0B5QW14WQ/ref=tmm_kin_swatch_0?_encoding=UTF8&qid=&sr=
Buy from Waterstones:
https://www.waterstones.com/book/maritime-strike/john-kingwell//9781636241135
Buy from Casemate Publishers:
https://www.casematepublishing.co.uk/maritime-strike.html
Buy from Book Depository:
https://www.bookdepository.com/Maritime-Strike-John-Kingwell/9781636241135
Buy from Pen and Sword Books:
https://www.pen-and-sword.co.uk/Maritime-Strike-Hardback/p/22634
Buy from Ryefield Books:
https://www.ryefieldbooks.com/books/maritime-strike/9781636241135?srsltid=AfAwrE5VI6m0Qeww-kmJ3DY0UIyazHVQY3kB9_PiAILfIPt5K1mTAVTLoZ8